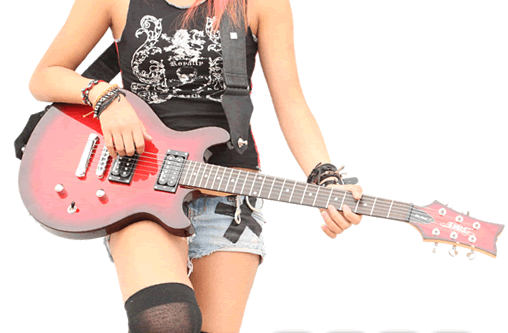 Dynamic Cheska Zaide fronts the high-energy group A+ Dropouts and is clearly making the grade in the hard to crack music scene.
Cheska has played hundreds of shows both in the United States and internationally. She has a successful Asian tour under her belt, touring the Philippines with Forever the Sickest Kids, The Ready Set, The Summer Set, and A Rocket to the Moon. Stateside, she has played on the Warped Tour and Summerfest. She has shared the stage with Yellowcard, Switchfoot, Public Enemy, Sister Hazel, Allstar Weekend, Mayday Parade, WATIC, P.O.D., Brian "Head" Welch from Korn and many more.
Cheska caters to the young generation of upcoming music lovers. In addition to high energy performances and solid guitar skills, Cheska maintains her rockstar image with her punk outfits and is also a role model to her fans and peers by maintaining straight A's in the advanced classes at her school.
She is currently endorsed by, and represents Daisy Rock Guitars, PRS Guitars, Sennheiser, Gator Cases, Clayton USA, and Get'm Get'm Wear. She appears as a Daisy Rock artist on Guitar Center displays nationwide.
Cheska's YouTube channel has garnered over 2 million views and a devoted fan base.